My uncle let us go to his practice in Greenville today for an early peek at the gender. There was a girl in the waiting room who was only 12 1/2 weeks pregnant with identical twins, and they were able to tell her she was having boys...so I had lots of hope that we would find out the gender.
Unfortunately, after lots of careful looking, the ultrasound tech couldn't say for sure... she kept thinking girl, and then would say, "Wait." And then it was "I don't know." She said if she was pushed to guess today, she would lean towards "Girl," but that's really just a guess.
We were sent home so happy though after seeing the healthy heartbeat and with lots of pictures to keep!
If you have any experience and want to venture a guess, here are the "toilet poses" as they are called. It means you are looking up at the baby's butt as if they were sitting on the toilet.
We find out for sure on July 7th! (5 weeks away!)
Oh and if you aren't a follower of my friend Heather at
It's the World I Know
, go check her out and join in on the OPI Swap! Sign up ends tonight at midnight...so hurry up! :)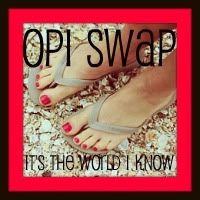 Hope everyone has a great weekend. I'm off to my cousin's wedding tomorrow. Can't wait to see some of my sisters and other extended family!!